Yarn Dyed Jacquard Promotional Towels
We manufacture and export towels that are custom woven with custom dyed yarns in two or more different colours and these are classified as yarn dyed jacquard towels.
Custom yarn dyed jacquard woven towels with your logo all over the towel are common and efficient corporate promotional products.
Using colored yarns, the design or logo is generally woven throughout the full surface of the towel.
Using this weaving technique, we can provide you with a perfect corporate product that will serve you promote your company or brand.
Cotton quality, size, fabric weight, and logo customization are the most important features of a basic type of a yarn dyed jacquard promotional towel. The quality of a custom logo yarn dyed jacquard towel is determined by each of these parameters.
We only use Turkish Cotton because it is one of the finest cottons on the industry. Turkish Cotton is a high-quality cotton that is only grown in Turkey. The firm cellulose chains, highly fibril and crystalline structure of Turkish cotton contribute to its premium grade. The softness, absorbency, durability, and color fastness of our yarn dyed jacquard towels are all correlated with high quality of Turkish cotton fiber.
As different types of towels require different dimensions, the size of a towel is determined by its intended purpose and function.
Production of the Yarn Dyed Jacquard Promotional Towels
Yarn-dyed jacquard towels are towels that are produced by using dyed or colored yarns in different colours to weave the logos or designs into towels as multi-colored towels
Dyeing or coloring of the Yarn Dyed Jacquard Towels
Usually two different colors of yarns and sometimes more colors are dyed, colored with perfect color fastness before weaving. The yarns can be dyed in your own custom colors .
Weaving of the of the Yarn Dyed Jacquard Towels
Those same dyed yarns are then used to weave the logo or design across the overall surface of the towel. The colored or dyed yarns are woven into the towel by using jacquard weaving looms to obtain your custom logo or your custom artwork on the towels. This weaving process allows us to provide you with a remarkable-looking logo that will serve you effectively promote your brand. The reverses of the towels are with the same patterns with inverted colors.
Fabric and Pile Loop Construction of the Yarn Dyed Jacquard Towels
Premium quality Turkish cotton is used and the fabrics can be in Terry quality or in velour quality . There are two types pile loop construction of yarn dyed jacquard towels. Pile loops with single yarn and pile loops with double yarn. Fabric weights can be between 330 g/m2 and 950 g/m2 .
Types of the Yarn Dyed Jacquard Promotional Customized Towels
Yarn Dyed Jacquard Bath Towels
A stunning textured yarn dyed jacquard design with two or more colors will complement any bathroom as a luxury promotional towel presented to your clients as a great logo promotional product. Due to the obvious excellent color combinations in the yarn dyed jacquard promotional bath towels, your customers will be impressed. They are exceptionally soft and absorbent logo towels.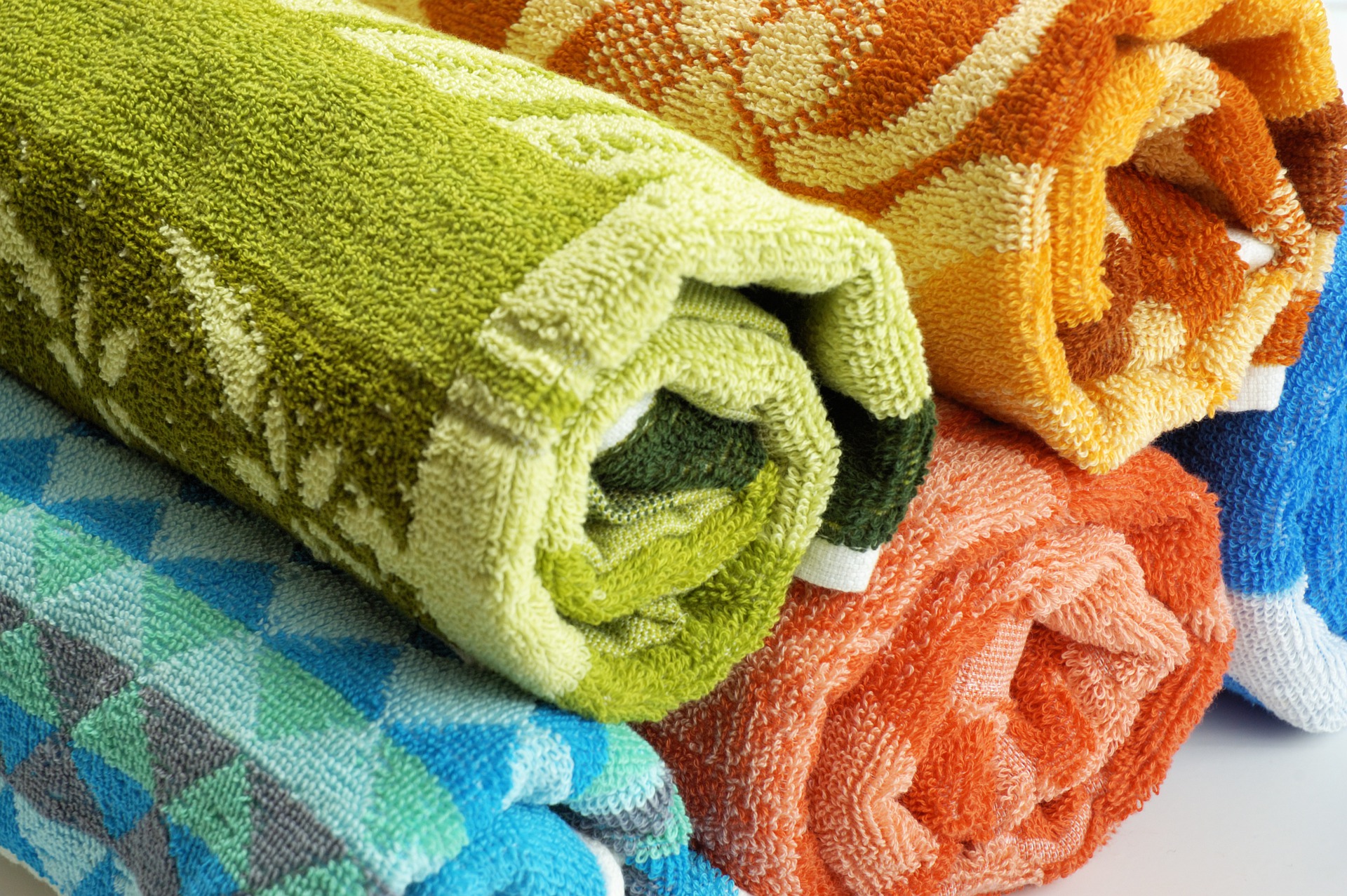 Yarn Dyed Jacquard Beach Towels
We manufacture and export customized wholesale beach towels. Your logo can be woven into our custom woven yarn dyed jacquard promotional beach towels in your company colors. These custom logo beach towels make excellent promotional products, and presenting it to your customers guarantees your brand gets exposed to much more awareness than any other product. A great-looking personalised beach towel can serve as an advertisement on the beach, and it may also be used in combination with some other beach-related products in your marketing campaign to maximize the value of your beach promotional items.

Yarn Dyed Striped Pool Towels
Our premium cabana striped pool towels are manufactured from finest Turkish cotton. Stripes are vat dyed to resist bleach and industrial laundering, making them ideal for use as luxury hotel pool towels. Stripe Pool Towels are vat dyed for color fastness and chlorine and bleach resistance. Striped pool towels make excellent promotional products.
Yarn Dyed Jacquard Sports Towels
Our branded promotional custom sports towels can be jacquard woven with your logo or design and dyed in your custom colors. Each customized gym towel has a large branding area where you can put your logo. Towels with your company's logo and name, as well as your health club, gym, or sporting event, are a good way to promote your business.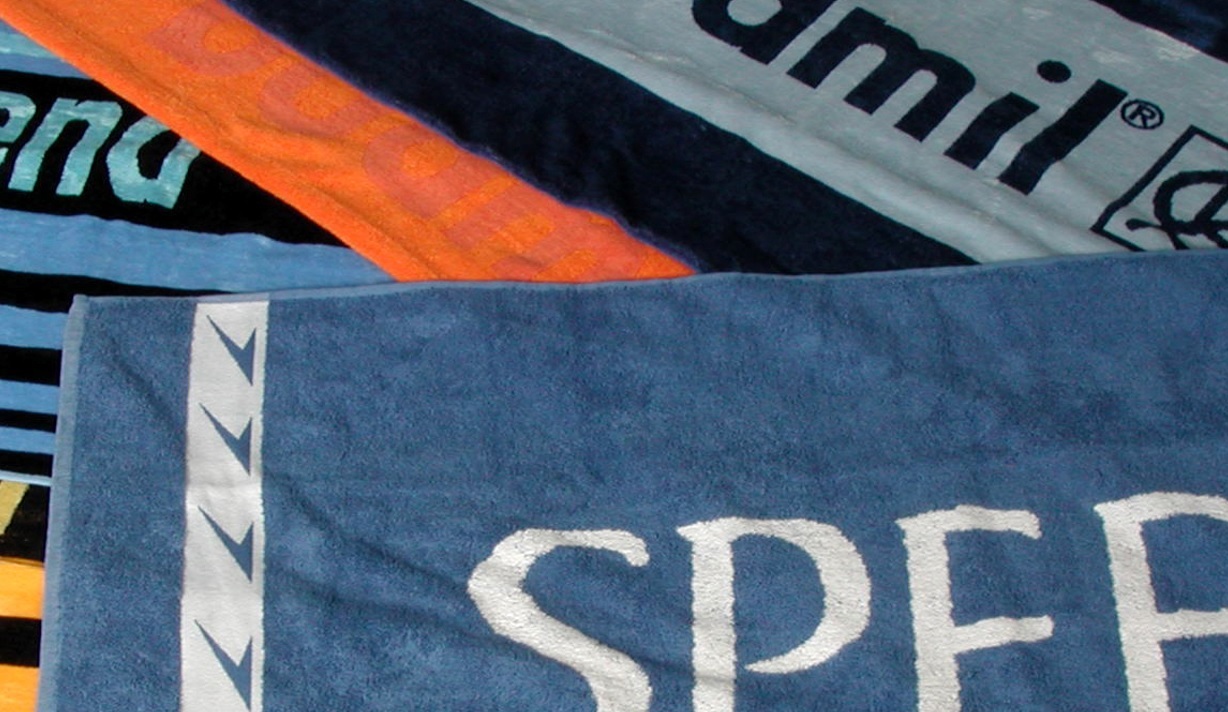 Yarn Dyed Jacquard Bar Towels
Our personalized bar towels are yarn dyed jacquard woven towels with your company logo or brand name on them. Woven promotional bar towels displaying your company's name and logo are a perfect way to promote your business.

Yarn Dyed Jacquard Golf Towels
One of the most useful promotional products you can present to your consumers is yarn dyed jacquard golf towels. Fully customized jacquard woven golf towels with your logo create a big impression on the customers and are ideal promotional gifts for golf tournaments, golf courses, golf clubs, corporate branding, promotions, and more.