Promotional Bathrobes
Custom made promotional robes are trendy, functional, and classy corporate gifts to promote your logo and your brand. We can customize the logos, colors, size charts, and patterns to your specifications.
What are Promotional Bathrobes ?
Promotional bathrobes are premium-quality bathrobes made from usually 100% cotton fabric, specifically designed to promote a brand, business, or organization. Custom promotional bathrobes offer a combination of comfort, absorbency, and style, making them an ideal choice for promotional purposes. Cotton promotional bathrobes offer a unique blend of luxury, practicality, and brand promotion. They serve as memorable and thoughtful gifts while creating lasting brand visibility for businesses and organizations. Embracing the charm of cotton, these robes bring a touch of comfort and elegance to any promotional campaign.
Promotional cotton bathrobes are custom-made and branded bathrobes crafted exclusively from premium-quality cotton fabric. Primarily intended as a marketing tool, these robes are personalized with logos, brand names, or messages, transforming them into potent promotional assets that enhance brand visibility and create a lasting impact on recipients.
Cotton, being a natural and soft fiber, ensures an exceptional level of comfort, making these promotional bathrobes a delightful experience to wear. Their absorbent properties also make them perfect for post-bath use or spa settings, offering both luxury and practicality in one package.
These versatile cotton bathrobes are well-suited for various promotional initiatives, including corporate gifts, hotel amenities, trade show giveaways, and other branding events. With their durability and quality, they serve as enduring reminders of your brand, leaving a positive impression long after the promotional event has ended.
In essence, promotional cotton bathrobes harmonize the charm of comfort and branding, providing businesses and organizations with an elegant and effective way to promote their brand and build a lasting connection with their audience.
Custom promotional products are integral to corporate B2B promotional campaigns. They enhance brand visibility at events, generate leads, and foster client appreciation. These products also serve as incentives, trade show giveaways, and corporate gifts. Moreover, they support product launches, content marketing, and training efforts, making them versatile tools for building relationships and promoting brand recognition in the B2B sector.
Marketing merchandise is a cornerstone of successful corporate B2B promotional campaigns. Within this category, items like Custom Shawl Collar Bathrobes and Personalized Shawl Collar Robes take on a crucial role. Our luxurious Embroidered Bathrobes with Shawl Collar and Custom Logo Shawl Collar Robes not only elevate brand visibility at marketing events but also serve as cherished promotional giveaways.
In essence, marketing merchandise, particularly Custom Shawl Collar Bathrobes and Personalized Shawl Collar Robes, proves to be a versatile and high value asset in corporate B2B promotional campaigns. They are not merely products but tools that engage, reward, and promote brand recognition in the B2B sector.
Key Features of Cotton Promotional Bathrobes
Promotional bathrobes harmonize comfort with branding excellence, offering businesses and organizations an elegant and effective way to promote their brand and leave a lasting impression on their audience.
Material:
They are crafted gnerally from cotton, a natural and soft fiber known for its breathability and comfort against the skin.
Personalization:
Cotton promotional bathrobes can be customized with a logo, brand name, or any desired message, turning each robe into a powerful branding tool.
Absorbency:
Cotton is renowned for its excellent absorbent properties, making these bathrobes perfect for after-bath use or at spas.
Softness:
The cotton fabric provides a gentle and cozy touch, ensuring a comfortable experience for the wearer.
Versatility:
These bathrobes are versatile in their usage, suitable for corporate gifts, hotel amenities, trade show giveaways, or any promotional event.
Durability:
High-quality cotton ensures the robes are durable and capable of withstanding regular use and washing, ensuring a long-lasting promotional item.
Technical and Performance Properties of Cotton Terry Cloth Promotional Bathrobes and Cotton Velour Promotional Bathrobes
Our cotton terry cloth bathrobes excel in their absorbency, softness, and versatility, making them ideal for after-bath use and casual lounging. On the other hand, cotton velour bathrobes are known for their luxurious appearance, soft touch, and lightweight feel, making them suitable for upscale promotions and leisurely relaxation. The choice between the two types depends on the specific promotional goals, target audience preferences, and the desired performance attributes for the bathrobe.
Each type of promotional bathrobe offers unique features and benefits, catering to different preferences and occasions. When selecting the ideal bathrobe for your promotional needs, consider factors such as absorbency, comfort, and the image you want to convey to your target audience. Both cotton terry cloth and cotton velour bathrobes present excellent branding opportunities, allowing you to showcase your logo or message while providing a premium and memorable gift to your customers or clients.
Cotton Terry Cloth Promotional Bathrobes:
This classic type of bathrobe features looped fibers on both sides, providing excellent absorbency and comfort. It is highly suitable for after-bath use, spa promotions, or leisure lounging. The terry cloth texture adds a cozy and plush feel to the robe, making it a popular choice for everyday use.
Technical Properties:
Fabric Composition: 100% Cotton Terry Cloth
Construction: Looped fibers on both sides, forming a plush and absorbent texture
Weight: Typically heavier due to the looped fibers, providing a substantial feel
Weave: Woven fabric with looped piles
Performance Properties:
Absorbency: Excellent moisture-wicking properties, quickly absorbing water after bathing or swimming
Softness: Offers a soft and cozy feel against the skin, providing comfort and warmth
Durability: Highly durable, capable of withstanding frequent washing and regular use
Versatility: Suitable for use in various settings, including after-bath, spa, or casual lounging
Insulation: Provides decent insulation, making it suitable for use in colder temperatures.
Cotton Velour Promotional Bathrobes:
This type of bathrobe has a velvety texture on one side, providing a smooth and luxurious surface. The velour finish gives the robe a stylish and elegant appearance, making it suitable for upscale promotions or corporate gifts. The softness of the velour fabric adds a touch of indulgence to the robe, making it ideal for special occasions or as a premium promotional gift.
Technical Properties:
Fabric Composition: 100% Cotton Velour
Construction: One side features sheared fibers, creating a smooth and velvety surface, while the other side may have looped fibers for added absorbency
Weight: Generally lighter compared to terry cloth due to the sheared fibers
Weave: Woven fabric with a velvety finish
Performance Properties:
Luxurious Feel: Offers a luxurious and stylish appearance, perfect for upscale promotions or high-end gifts
Softness: Provides an incredibly soft and gentle touch, enhancing the feeling of indulgence
Absorbency: Slightly less absorbent compared to terry cloth, making it more suitable for leisure lounging rather than after-bath use
Comfort: Ideal for relaxation and special occasions, creating a sense of elegance and comfort
Lightweight: Being lighter, it allows for ease of movement and comfortable wear during leisure activities.
Unlock Branding Opportunities with Promotional Bathrobes!
Promotional bathrobes combine elegance with practicality, leaving a lasting impact and elevating your brand's visibility. Embrace the power of personalized comfort and let your brand shine with these luxurious promotional products. Unleash the potential of promotional bathrobes and witness your brand rise above the competition.
Endless Brand Visibility:
Imprint your logo or message on the bathrobe, turning it into a walking billboard for your brand. Maximize exposure at spas, hotels, or homes.
Ideal Corporate Gifts:
Elevate your corporate gifting game with personalized bathrobes. Show appreciation to clients or employees with a thoughtful and luxurious gift.
Spa and Hotel Amenities:
Transform the spa or hotel experience by offering customized bathrobes to guests. Create a lasting impression and memorable stay.
Trade Show Giveaways:
Stand out at trade shows with unique bathrobe giveaways. Draw attention to your booth and start meaningful conversations.
Loyalty Programs:
Reward loyal customers with branded bathrobes as part of loyalty programs. Encourage repeat business and foster strong relationships.
Team and Employee Incentives:
Boost team spirit and morale by gifting personalized bathrobes to employees. Instill a sense of pride in representing your brand.
Fundraising Events:
Organize fundraisers with personalized bathrobes as exclusive merchandise. Supporters will cherish the stylish keepsake while supporting your cause.
Logo Branding Options for Promotional Bathrobes
Here are our logo branding options for promotional bathrobes. You can choose from three premium techniques – embroidery, printing, and labeling – to customize your robes and showcase your brand in style.
Embroidery:
Crafted with precision, our embroidered logos exude sophistication and permanence. The intricate stitching adds a touch of elegance to your bathrobes, creating a lasting impression that withstands time and washing.
Printing:
Vibrant and eye-catching, our printed logos offer versatility in design and color. With high-quality printing technology, your brand comes to life with vivid details that captivate and leave a bold impact.
Labelling:
For a sleek and seamless look, opt for our labeled branding. These carefully affixed labels add a touch of exclusivity to your bathrobes, highlighting your logo with a polished finish.
Why Should You Use Custom Bathrobes As Promotional Products ?
Custom robes with logo are great promotional products that are basically personalized goods that are functional for various companies to give out completely free to their target customers. The primary function of a logo bathrobe is to spark interest and generate attention to your brand, making them excellent tools for advertising. Promotional robes come in several styles, from basic kimono robes, hooded bathrobes and classical shawl collar robes, to eco-friendly organic cotton bathrobes. The key concept is that their impact is always perceived by the receipents as custom bathrobes are very beneficial products. Customized robes have a long lifecycle compared to many other promotional products. When the style and function are in accordance with what clients desire and need, branded bathrobes are fantastic as people love them. However if you take into account the psychological effects the sophisticated and exquisite bespoke robes can have on your audience, that appeal becomes even more crucial to your company.
Using custom bathrobes as promotional products allows your brand to stand out, leave a lasting impression on customers, and create a positive brand image associated with comfort and luxury. Embrace the power of custom bathrobes to elevate your brand and marketing efforts today.
Using custom bathrobes as promotional products can bring a multitude of benefits to your brand and marketing strategy. Here are compelling reasons why you should consider using custom bathrobes for promotion:
Exceptional Brand Visibility: Custom bathrobes act as walking billboards, displaying your logo or message wherever they go. Whether worn at home, spas, or hotels, they create continuous brand exposure.
Memorable and Thoughtful Gifts: Custom bathrobes make for impressive and luxurious gifts. By personalizing them with your logo, you leave a lasting impression on recipients, fostering positive brand associations.
Enhanced Guest Experience: Hotels and spas can elevate guest satisfaction by providing custom bathrobes. Guests will appreciate the attention to detail and the sense of luxury associated with your brand.
Customer Loyalty and Retention: Offering custom bathrobes as rewards for loyal customers fosters brand loyalty and encourages repeat business. They become cherished reminders of your brand's appreciation.
High-Quality and Durable: Custom bathrobes crafted from premium materials ensure longevity, guaranteeing that your brand remains visible for an extended period.
Versatility in Design: From embroidery to printing, custom bathrobes offer various logo branding options to suit your brand's aesthetics and messaging.
Positive Brand Perception: Associating your brand with the comfort and indulgence of custom bathrobes enhances its image and builds a positive perception among customers.
Unique Promotional Merchandise: Custom bathrobes stand out as distinctive promotional items, making your brand memorable and setting it apart from traditional promotional products.
Wide Audience Reach: Everyone appreciates a comfortable and luxurious bathrobe, making them a versatile and universally appealing promotional item.
Custom Embroidered Bathrobes
We specialize in manufacturing custom embroidered bathrobes designed exclusively for our B2B customers. These bathrobes are not just garments; they are a canvas for your brand's identity. With careful attention to detail, we offer a unique opportunity for you to elevate your corporate image and leave a lasting impression on clients, partners, and employees alike.
Key Features of Custom Embroidered Bathrobes
Personalized Embroidery: We transform bathrobes into powerful branding tools. Our custom embroidery service allows you to showcase your company logo, name, or any design you desire, adding a touch of professionalism and distinction.
Luxurious Fabrics: Our bathrobes are crafted from the finest materials, including soft and absorbent cotton, plush terry cloth, and sumptuous microfiber. They offer unmatched comfort and luxury, making them the perfect choice for corporate gifting.
Versatile Styles: Choose from a diverse range of styles to match your brand's aesthetic. Whether you prefer the classic shawl-collar robe, contemporary kimono-style, or any other design, we have options that align with your vision.
Color Customization: Personalize your bathrobes further by selecting from a palette of rich, complementary colors that resonate with your brand identity or the ambiance of your establishment.
Durable Embroidery: Our embroidery is not only visually striking but also built to last. It retains its integrity even after multiple washes, ensuring a consistent and enduring brand presentation.
Bulk Ordering: We understand the demands of businesses, and that's why we offer flexible solutions for bulk orders. Whether you represent a spa, hotel, resort, wellness center, or corporation, we ensure seamless transactions that meet your quantity and delivery needs efficiently.
Benefits of Custom Embroidered Bathrobes for B2B Customers
Brand Enhancement: Our custom embroidered bathrobes put your brand in the spotlight. Your clients will associate comfort and quality with your business, reinforcing your brand recognition.
Client and Employee Appreciation: Show your clients, partners, and employees how much you value them with personalized bathrobes as corporate gifts. It's a thoughtful gesture that fosters goodwill and strengthens your brand identity.
Effective Marketing: Our custom embroidered bathrobes are powerful marketing tools during events, trade shows, or promotional campaigns. They captivate attention, leaving a lasting impression on potential clients and partners.
Partner with Nova Bravo to elevate your corporate image and provide your stakeholders with the luxury and personalization of our custom embroidered bathrobes.
Contact us today to discuss your unique requirements and branding objectives. Discover how our bathrobes can help you make an indelible mark in the B2B landscape.
Custom Monogrammed Terry cloth Robes
We produce exclusive Custom Monogrammed Terry Cloth Robes, a luxurious blend of personalized comfort and cutting-edge fabric technology that ensures unmatched softness, absorbency, and durability.
Made from premium-grade terry cloth, this robe offers exceptional absorbent properties, guaranteeing a swift and efficient drying experience after bathing. The high-quality fibers provide a lavish softness against the skin, elevating relaxation to a whole new level.
What truly distinguishes our Custom Monogrammed Terry Cloth Robe is the advanced computerized embroidery technique used for monogramming. Your custom logo or monogram are intricately woven into the fabric, ensuring precision and long-lasting elegance.
Designed with your comfort in mind, the robe features a thoughtful cut and stitching, offering a perfect fit for various body types. Reinforced seams and expertly finished edges enhance the garment's resilience, allowing it to withstand regular use and washing.
More than just a robe, it symbolizes sophistication and individuality. Whether you're searching for a meaningful gift or indulging yourself, this robe is the epitome of elegance and relaxation.
Experience the summit of technical excellence and bespoke luxury. Order your Custom Monogrammed Terry Cloth Robe today and unlock a world where innovation meets indulgence, redefining comfort and style.
Custom Logo Bathrobes
Having your logo on such a clothing will definitely assist in business promotion. Custom promotional robes are perfect promotional gifts for organizations. According to your requirements, promotional bathrobes are offered in a variety of sizes and colors. Our experienced team will assist you in customizing your logo so that you can effectively promote your company.
Custom Bathrobes
We are an experienced custom bathrobes manufacturer , dedicated to crafting robes that suit your custom specs and style. From selecting quality Turkish terry cloth to offering diverse colors and logo branding, our expert craftsmanship elevates relaxation to sophistication.
What are Custom Bathrobes ?
Custom bathrobes are personalized and branded bathrobes that are designed and distributed with the specific purpose of promoting a business, brand, event, or organization. Custom bathrobes are customized to include logos, slogans, or other branding elements, making them effective marketing tools that help increase brand visibility and leave a lasting impression on recipients.
Custom bathrobes are often favored for their ability to reflect one's personality, preferences, or brand identity. They can be ideal for personal use, special occasions, corporate gifts, spa establishments, or hospitality settings where a distinct and personalized touch is desired.
Custom bathrobes are a unique convergence of comfort, style, and individuality, offering a personalized expression of luxury and practicality. Crafted from premium 100% cotton, these bathrobes exude sophistication and coziness. In this comprehensive exploration of 100% Cotton Custom Bathrobes, we delve into the intricate production process, the diverse fabric types at play, an array of bathrobe styles catering to various preferences, and the strategic branding techniques that elevate these garments into distinct embodiments of identity.
The making of 100% Cotton Custom Bathrobes is essentially a complex combination of design expertise, precise technical execution, and strategic branding, resulting in a unique representation of luxury and individual identity.
Our range of high-end custom bathrobes, that were expertly manufactured using our advanced knowledge of high-quality bathrobes, are suitable for a wide range of uses, such as promotional products, at hotels and spas, for businesses, and more.
We are a Custom Bathrobes Manufacturer Company
We are a custom bathrobes manufacturer company that specializes in producing bathrobes precisely to our customer specifications. We provide our customers with a range of customizable options, including fabric, color, pattern, size, and the addition of logos or names through embroidery or printing on the robes. We cooperate with businesses, hotels, spas, and other organizations to produce personalized bathrobes that align with their branding or promotional needs, all based on their prescribed specifications. As a custom bathrobes manufacturer, we maintain a variety of design choices and possess the production capacity to create bathrobes in bulk quantities, adhering to the given specifications. We are consistently open to offering wholesale options for businesses seeking to procure larger quantities of bathrobes, all manufactured according to their provided specifications.
Manufacturing Custom Bathrobes
As a skilled custom bathrobe manufacturer we combine craftsmanship with years of practice, producing personalised robes that capture distinct corporate and personal styles. Our expertise in materials, design, and client interaction guarantees unparalleled comfort and sophistication in each crafted piece.
The creation of 100% cotton custom bathrobes encompasses a systematic sequence of steps that amalgamate design, manufacturing, and meticulous quality control. Key phases entail meticulous material selection, precise pattern creation, cutting and sewing procedures, personalized enhancements, and the final touch of packaging.
1. Material Selection
The foundation lies in selecting premium cotton grades and yarn counts, harnessing cotton's natural attributes such as breathability and moisture absorption.
2. Pattern Making
Advanced CAD software aids in the digital creation of intricate patterns, enabling customization across different sizes and styles.
3. Cutting and Sewing
Automated cutting and sewing technologies ensure accurate fabric alignment and consistent seam quality.
4. Customization
Techniques like computerized embroidery or heat transfers bring personalization to life without compromising fabric integrity.
5. Quality Control
Rigorous checks at multiple stages ensure adherence to set standards for measurements, stitching precision, fabric integrity, and customization accuracy.
6. Packaging and Shipment
Thoughtfully designed packaging safeguards the bathrobes during transit while enhancing brand presentation.
Fabric Types of Custom Bathrobes
Fabric selection significantly influences performance and aesthetics, with different fabric types offering distinct characteristics:
1. Terry Cloth
Renowned for absorbency and softness, terry cloth is ideal for bathrobes intended for post-shower or spa use.
2. Waffle Weave
Known for its grid texture, waffle weave fabric grants breathability and a touch of elegance suitable for warmer climates.
3. Velour
With its plush surface resembling velvet, velour fabric exudes luxury and comfort, appealing to those who prioritize opulence.
Styles of Custom Bathrobes
Bathrobe styles are defined by construction and design, impacting both functionality and visual appeal:
1. Custom Kimono Bathrobes
Characterized by a straight-cut, open front and wide sleeves, kimono-style robes offer comfort and ease of movement.
2. Custom Shawl Collar Bathrobes
Robes with shawl collars feature a folded-over neckline that adds refinement and warmth.
3. Custom Hooded Robes
Hooded bathrobes provide extra warmth and a cozy vibe, suitable for post-bath relaxation.
Branding of 100% Cotton Custom Bathrobes
Strategic branding imparts a unique identity and enhances customer perception.
1. Logo Placement: Thoughtful placement of the brand logo on the robe contributes to brand recognition.
2. Custom Packaging: Branded packaging heightens the unboxing experience, reinforcing the brand's ethos.
3. Material Quality: Emphasizing premium 100% cotton materials enhances perceived value and comfort.
4. Sustainability Messaging: Highlighting eco-friendly practices resonates with conscientious consumers.
5. Personalization: Offering customization options deepens the connection between customers and the brand.
Turkish Terry Cloth Robes
The best promotional gifts for companies and brands are Turkish bathrobes made of the finest quality 100% Turkish cotton terry cloth.
Customized bathrobe sets
As a corporate gift, high-quality hotel bathrobe sets or promotional bathrobe sets with custom embroidery of your company logo help to create a prestigious representation of your company. Giving your clients and prospects bathrobe sets promotes your company's luxurious image.
Luxury terry cloth robes
We just use finest loops and premium cotton yarn to create luxurious robes. Bathrobes manufactured in this way are pretty dense, substantial, and very soft. The final outcome is a selection of stylish and elegant bathrobes.
Promotional Shawl Collar Bathrobes
Our terry cloth promotional shawl collar bathrobes with logo are made from Turkish cotton, which feels extra soft. Turkish cotton is known as the best cotton in the world because of the long threads. A luxurious bathrobe with a shawl collar crafted from cotton is a perfect promotional gift.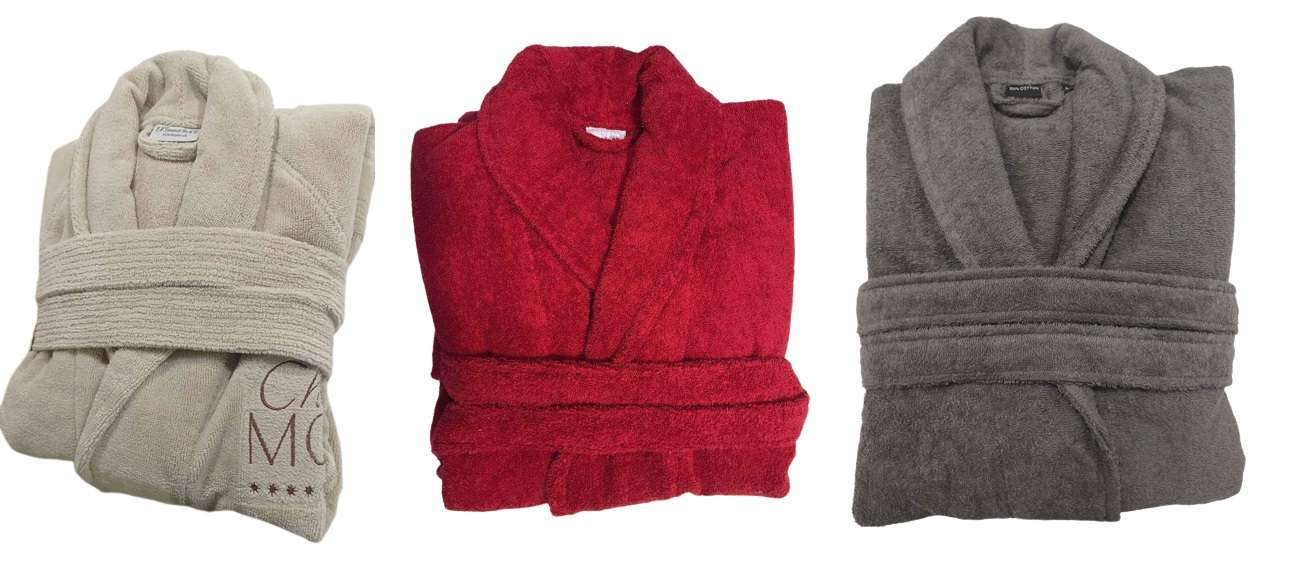 Custom Made Shawl Collar Bathrobes
Our custom promotional shawl collar bathrobes are also spacious, so the bathrobe closes nicely around you. Our promotional shawl collar bathrobes are in any customized color and in many sizes.
Custom Embroidered Shawl Collar Promotional Bathrobes
Your custom logo is embroidered on shawl collar bathrobes. We can upload your custom logo which you want embroidered on our shawl collar bathrobes usually on the front left breast. You can have any custom logo or text embroidery of your choice. Great for hotels, spas or as promotional gifts and have your custom logo embroidered onto Shawl Collar Terry Bathrobes. Our luxury shawl collar bathrobes will make a great corporate gift item. It is a full length bathrobe which we are offering in any size you request. Our shawl collar bathrobes are ideal for customisation with your logo and we offer a complete quality embroidery service where you can get your bathrobe embroidered with your logo.
Types of Custom Shawl Collar Bathrobes by size
Women Bathrobes
Men Bathrobes
Kids Bathrobes
Children Bathrobes
Baby Bathrobes
Unisex Bathrobes
Types of Custom Shawl Collar Bathrobes by use
Promotional Bathrobes
Classy Turkish cotton robes
Hotel bathrobes
Spa Bathrobes
Sauna Bathrobes
Yacht Club Bathrobes
Sports Club Bathrobes
Marine Bathrobes
Corporate Bathrobes
Luxury Gift Bathrobes