Promotional Robes
Custom made promotional robes are trendy, functional, and classy corporate gifts to promote your logo and your brand. We can customize the logos, colors, size charts, and patterns to your specifications.
Custom Logo Robe
Because they can be worn by a wide variety of people, promotional robes with logos are a popular promotional tool. For hospitality industry including resorts and hotels, a custom logo robe is a necessity. When your customers wearing customized robes, your company is promoted. During business events or commercial shows, custom-branded robes are a great gift items
Logo Bathrobe
Having your logo on such a clothing will definitely assist in business promotion. Custom promotional robes are perfect promotional gifts for organizations. According to your requirements, promotional bathrobes are offered in a variety of sizes and colors. Our experienced team will assist you in customizing your logo so that you can effectively promote your company.
Why Should You Use Custom Bathrobes As Promotional Products ?
Custom robes with logo are great promotional products that are basically personalized goods that are functional for various companies to give out completely free to their target customers.
The primary function of a logo bathrobe is to spark interest and generate attention to your brand, making them excellent tools for advertising.
Promotional robes come in several styles, from basic kimono robes, hooded bathrobes and classical shawl collar robes, to eco-friendly organic cotton bathrobes.
The key concept is that their impact is always perceived by the receipents as custom bathrobes are very beneficial products. Customized robes have a long lifecycle compared to many other promotional products.
When the style and function are in accordance with what clients desire and need, branded bathrobes are fantastic as people love them.
However if you take into account the psychological effects the sophisticated and exquisite bespoke robes can have on your audience, that appeal becomes even more crucial to your company.
Promotional Shawl Collar Bathrobes
Our terry cloth promotional shawl collar bathrobes with logo are made from Turkish cotton, which feels extra soft. Turkish cotton is known as the best cotton in the world because of the long threads. A luxurious bathrobe with a shawl collar crafted from cotton is a perfect promotional gift.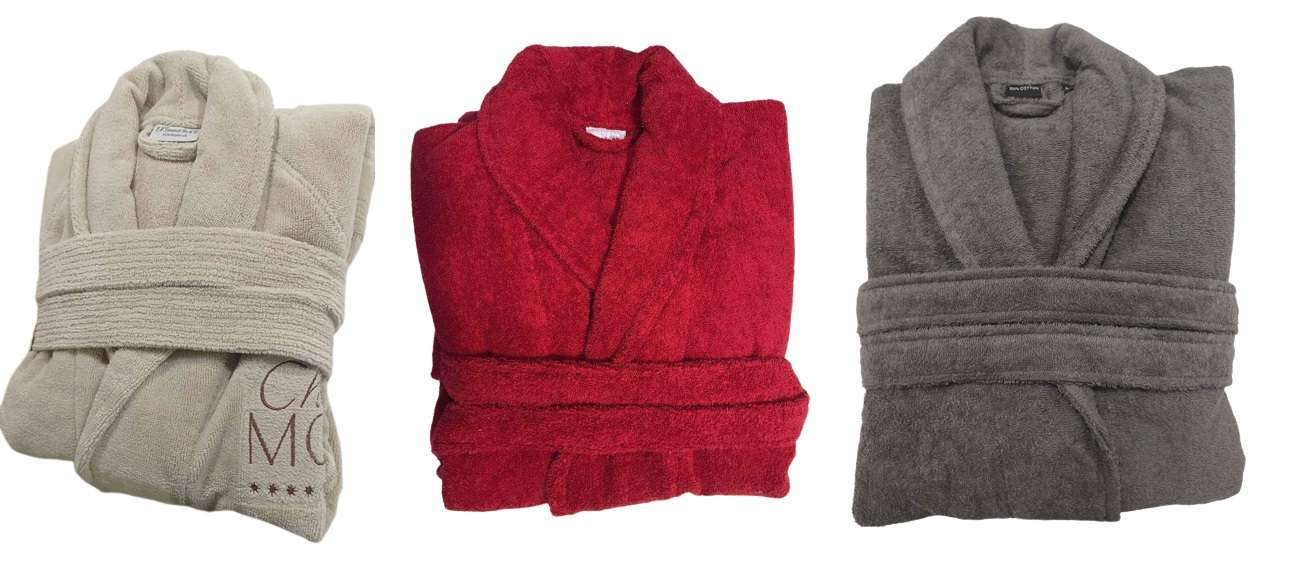 Custom Made Shawl Collar Bathrobes
Our custom promotional shawl collar bathrobes are also spacious, so the bathrobe closes nicely around you. Our promotional shawl collar bathrobes are in any customized color and in many sizes.
Custom Embroidered Shawl Collar Promotional Bathrobes
Your custom logo is embroidered on shawl collar bathrobes. We can upload your custom logo which you want embroidered on our shawl collar bathrobes usually on the front left breast. You can have any custom logo or text embroidery of your choice. Great for hotels, spas or as promotional gifts and have your custom logo embroidered onto Shawl Collar Terry Bathrobes. Our luxury shawl collar bathrobes will make a great corporate gift item. It is a full length bathrobe which we are offering in any size you request. Our shawl collar bathrobes are ideal for customisation with your logo and we offer a complete quality embroidery service where you can get your bathrobe embroidered with your logo.
Types of Custom Shawl Collar Bathrobes by size
Women Bathrobes
Men Bathrobes
Kids Bathrobes
Children Bathrobes
Baby Bathrobes
Unisex Bathrobes
Types of Custom Shawl Collar Bathrobes by use
Promotional Bathrobes
Classy Turkish cotton robes
Hotel bathrobes
Spa Bathrobes
Sauna Bathrobes
Yacht Club Bathrobes
Sports Club Bathrobes
Marine Bathrobes
Corporate Bathrobes
Luxury Gift Bathrobes