Custom Kitchen Towels
We manufacture and export a great amount of custom promotional kitchen towels for businesses to meet their corporate promotional product needs for sales promotion.
Custom made promotional kitchen towels are functional and trendy promotional products for your company or brand.
Turkish cotton kitchen towels
Custom kitchen towels are the perfect personalized kitchen gifts for business promotion.
Premium Turkish cotton fibers and yarns are used to weave all of our kitchen towels.
What are the reasons for using custom promotional kitchen towels as promotional merchandise?
Custom promotional kitchen towels will be appreciated by customers, potential clients, purchasers, corporate partners, and employees.
Kitchen towels with logo will be delivered to customers as corporate gifts and will feature your corporate logo.
Customized branding is applied on promotional kitchen towels to attract in new customers. Everything from a company logo to a brand name or a corporate deign can be applied as a print or as an embroidery on the kitchen towels in the branding process.
As clients are more inclined to purchase from a company with a strong brand memory, custom kitchen towels with logo help enhance selling. As a consequence, when your market segment identifies and recalls your brand, it will become well-known and gain an improved image. Brand awareness is the term used to describe this impact.
Custom kitchen towels make useful and valuable promotional gifts.
Promotional kitchen towels are given to customers as a souvenir and reflect an experience.
Kitchen towels with logo promote brands and add value, so, they are ideal for promotional campaigns.
The lifespans of the kitchen towels are extraordinarily long.
Personalized Kitchen Towels
Our personalized kitchen towels are highly absorbent and lightweight, providing users with excellent cleaning performance in as a simple to use kitchen towel.
Premium quality Turkish cotton kitchen towels dry rapidly after being wet.
Our promotional kitchen towels can be washed at high temperatures for maximum hygiene and have antibacterial properties included in.
Personalized kitchen towels can be embroidered or printed with your logo or design.
Custom embroidery or printing can make your corporate logo stand out on our kitchen towels in a sophisticated way.
Custom Embroidered kitchen towels
We use the best embroidery machines and the highest-quality yarns to brand your logo on our finest monogram kitchen towels.
The usage of embroidery is one of the best customization methods for custom kitchen towels.
We use needle, bobbins, colored quality polyester threads, yarn tension, and occasionally hoop in our recent stitching techniques.
Meanwhile, the motifs on embroidered tea towels and embroidered dish towels are incredibly precise and condensed thanks to modern computerized equipment.
Custom Printed Kitchen Towels
Modern printing techniques including digital textile printing, transfer printing, rotation printing, etc. are used to create the best printed tea towels. Personalized tea towels with custom printed logo that is clear, vibrant, and washable are available for all types of promotions.
Turkish Tea Towels
We manufacture high-quality Turkish tea towels and custom kitchen dish towels. For special occasions, we provide a variety of kitchen towel sets. For any promotional events, we can offer personalized dish towels.
Customization of Promotional Kitchen Towels
Our promotional kitchen towels are customized by your company logo or brand.
We personalize your promotional kitchen towels to create a sense of excellence and quality as superb premiums intended to be showcased, ensuring that your logo and branding can be seen and valued.
We customise our kitchen towels by printing or embroidery or by weaving and labelling.
Custom Logo Embroidered Promotional Kitchen Towels
We manufacture custom logo embroidered kitchen towels for you that are used in your promotional campaigns to display your brand or logo.
Custom Logo Printed Promotional Kitchen Towels
We can customize your logo, artwork, or sample is placed and print it on your personalized promotional kitchen towels.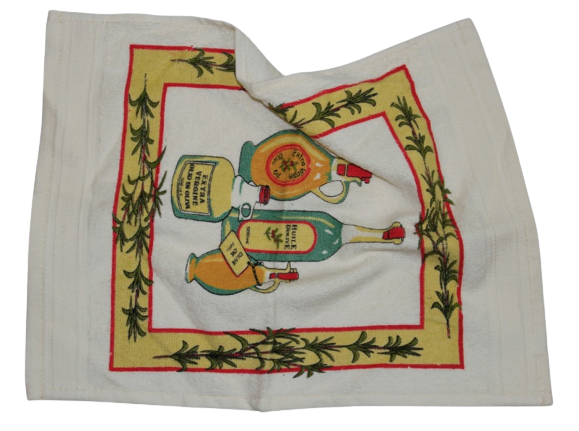 Your selected colors and layout will be completely adapted using our advanced printing systems, which produce exceptionally high color resolution.
High Quality Fabrics for Promotional Kitchen Towels
The kitchen towels we produce are made of 100 % cotton.
The fabric is highly absorbent and quick drying.
Types of custom kitchen towels by fabric types
Flat weave kitchen towels : Plain kitchen towels
Waffle weave kitchen towels : Waffle kitchen towels
Terry weave kitchen towels : Terry kitchen towels
Flat weave kitchen towels
Also known as plain kitchen towels, these towels are constructed of flat-woven fabrics, mainly cotton, and they come in solid colors and muliti colors .
They are branded by printing or embroidery.
Waffle weave kitchen towels
Waffle weave kitchen towels, commonly referred to as honeycomb kitchen towels, are produced with fabric distinguished by its three-dimensional texture.
By utilizing warp and weft floats of varied lengths, the weaving process creates the raised ridges that form a grid structure around the plain weave core.
They are mostly made of cotton, feature in solid colors and muliti colors, and are branded by embroidery or printing.
Terry weave kitchen towels
Terry weave kitchen towels are made from Turkish cotton terry towelling fabric.
They come in both solid colored towels and multi colored towels.
They are branded by printing, embroidery or jacquard weaving.