Custom Kitchen Towels
Custom kitchen towels are personalized or specially designed kitchen towels that can be customized to suit your preferences, style, and needs.
Custom kitchen towels are typically made from absorbent Turkish cotton flat woven , waffle woven or terry woven fabric, and they are used in the kitchen for tasks such as drying dishes, wiping surfaces, and cleaning up spills. The customization or branding advantage refers to the ability to add custom logos, designs, patterns, colors, and even text to the towels.
Flat woven custom kitchen towels boast a smooth texture, drying quickly and serving various kitchen tasks. Their sleek appearance aligns with modern aesthetics, and their thin profile aids in compact storage. Offering minimal lint, they maintain cleaner surfaces during use.
Waffle Woven custom kitchen towels feature a textured design that enhances absorbency and adds visual intrigue. This unique texture makes them excellent for cleaning and drying tasks. Their durability withstands heavy use, and the distinctive waffle pattern adds an elegant touch to your kitchen decor.
Terry woven custom kitchen towels, renowned for their plush and soft feel, excel in absorbency. The looped construction enhances durability, ensuring they remain dependable through frequent use and washings. Their versatility makes them ideal for a range of tasks, from drying hands to tackling more demanding moisture-absorbing jobs.
Branding on kitchen towels can be accomplished using two main techniques: embroidery and print.
Embroidery imparts a classic feel, with raised textures that enhance durability and add depth to company logos and designs, resulting in a timeless look.
Alternatively, print methods provide a dynamic platform for vibrant graphics, enabling businesses to display their logos prominently and create visually striking impressions. Companies can select the approach that aligns best with their branding objectives and the desired style for their custom kitchen towels.
As a leading custom kitchen towels manufacturer, we are dedicated to serving the needs of importers, promotional products companies, and brands seeking top-quality, personalized textile solutions. Our extensive range of custom kitchen towels is designed to cater to your distinct requirements, ensuring that each product aligns perfectly with your brand image and promotional endeavors.
Our custom kitchen towels have been designed to specifically meet the requirements of importers, promotional products companies, and brands. We offer a diverse range that can be adjusted to align with the preferences of various markets. Importers can take advantage of the numerous customization options we provide to cater to their local customer base. Our towels offer ample space for promotional products firms to incorporate logos, slogans, and messages. Brands can enhance their identity through our design expertise, seamlessly integrating brand elements, all while upholding our commitment to quality, durability, and efficient global export.
We invite importers, promotional products companies, and brands to explore our range of custom kitchen towels. From initial design concepts to final production, our team is committed to delivering products that surpass expectations and contribute to the success of your business. Contact us today to discuss how our custom kitchen towels can become an integral part of your product offerings and promotional strategies.
We produce a wide selection of exceptional custom kitchen towels that go beyond mere kitchen essentials. These towels, including personalized dish towels, custom tea towels are not just about functionality; they are powerful promotional merchandise.
Our commitment to providing high quality brand merchandise is evident in our approach to customization. We understand the significance of logo merchandise and the impact it can have on branding merchandise efforts. That's why we offer options like custom embroidered dish towels, custom embroidered kitchen towels, and custom printed kitchen towels that can be adorned with your logo, ensuring that every time these towels are used, your brand gets the recognition it deserves.
Whether you are looking for practical custom merchandise to enhance your company image or searching for versatile advertising merchandise that leaves a lasting impression, our range of custom kitchen towels has you covered. We blend quality, customization, and brand promotion seamlessly to deliver towels that serve your kitchen needs while elevating your brand visibility.
Turkish Cotton Kitchen Towels
Custom kitchen towels are the perfect personalized kitchen gifts for business promotion. Premium Turkish cotton fibers and yarns are used to weave all of our kitchen towels. Turkish cotton kitchen towels offer an exceptional solution for boosting business promotion. Not only do these personalized kitchen towels make excellent gifts, but they also serve as perfect tools for advancing brand visibility. Our Turkish cototn kitchen towels are skillfully woven using premium Turkish cotton fibers and yarns, guaranteeing exceptional quality and prolonged durability. By employing these high-quality materials, we ensure that our towels unites value with practicality. Whether utilized for gifting or brand enhancement, our Turkish cotton kitchen towels combines both aspects, delivering a balance of sophistication and utility through their exceptional quality.
Why Choose Custom Promotional Kitchen Towels: Top Reasons for Effective Brand Promotion?
Custom promotional kitchen towels will be appreciated by customers, potential clients, purchasers, corporate partners, and employees.
Kitchen towels with logo will be delivered to customers as corporate gifts and will feature your corporate logo.
Customized branding is applied on promotional kitchen towels to attract in new customers. Everything from a company logo to a brand name or a corporate deign can be applied as a print or as an embroidery on the kitchen towels in the branding process.
Custom kitchen towels with logo help enhance selling, as clients are more inclined to purchase from a company with a strong brand memory. As a consequence, when your market segment identifies and recalls your brand, it will become well-known and gain an improved image. Brand awareness is the term used to describe this impact.
Custom kitchen towels make useful and valuable promotional gifts.
Promotional kitchen towels are given to customers as a souvenir and reflect an experience.
Kitchen towels with logo promote brands and add value, so, they are ideal for promotional campaigns.
The lifespans of the kitchen towels are extraordinarily long.
Personalized Kitchen Towels
Our personalized kitchen towels are highly absorbent and lightweight, providing users with excellent cleaning performance in as a simple to use kitchen towel. Premium quality Turkish cotton kitchen towels dry rapidly after being wet. Our promotional kitchen towels can be washed at high temperatures for maximum hygiene and have antibacterial properties included in. Personalized kitchen towels can be embroidered or printed with your logo or design. Custom embroidery or printing can make your corporate logo stand out on our kitchen towels in a sophisticated way.
Our range of personalized kitchen towels boasts exceptional absorbency and a lightweight design, offering users remarkable cleaning performance through a simple-to-use kitchen essential. Crafted from premium quality Turkish cotton, our kitchen towels exhibit rapid drying capabilities after coming into contact with moisture.
Designed for maximum hygiene, our promotional kitchen towels can withstand high-temperature washing. Additionally, these towels incorporate antibacterial properties, ensuring a heightened level of cleanliness.
The versatility of our personalized kitchen towels extends to branding options. Your logo or design can be elegantly embroidered or expertly printed onto the towels, providing a sophisticated and distinct representation of your brand. This custom embroidery or printing allows your corporate logo to prominently shine on our kitchen towels, creating an impactful and stylish impression.
Custom Embroidered kitchen towels
We use the best embroidery machines and the highest-quality yarns to brand your logo on our finest monogram kitchen towels. The usage of embroidery is one of the best customization methods for custom kitchen towels. We use needle, bobbins, colored quality polyester threads, yarn tension, and occasionally hoop in our recent stitching techniques. Meanwhile, the motifs on embroidered tea towels and embroidered dish towels are incredibly precise and condensed thanks to modern computerized equipment. Our custom embroidered kitchen towels showcase our commitment to quality and precision. We employ the finest embroidery machines and high-quality yarns to imprint your logo on our monogram kitchen towels. Embroidery stands out as a premier method for customizing these kitchen essentials. Our modern stitching techniques involve needles, bobbins, quality polyester threads, and careful yarn tension, occasionally utilizing hoops for accuracy. With the aid of advanced computerized equipment, the motifs on our embroidered tea towels and dish towels exhibit exceptional precision and intricacy, adding a touch of sophistication to your kitchen decor.
Custom Printed Kitchen Towels
Our collection of custom printed kitchen towels reflects a fusion of innovation and creativity. We harness modern printing techniques, such as digital textile printing, transfer printing, rotation printing, and sublimation printing, to craft the finest printed tea towels. Each towel boasts a personalized touch, featuring a custom printed logo that remains vivid, clear, and resilient after washes. These personalized tea towels are a versatile choice for various promotional endeavors, catering to different types of branding campaigns. Whether it's for corporate giveaways or event promotions, our custom printed kitchen towels offer a blend of functionality and visual appeal. With an array of printing methods at our disposal, we ensure that every towel captures your brand's essence and delivers a washable logo that exudes vibrancy.
Turkish Tea Towels
We manufacture high-quality Turkish tea towels and custom kitchen dish towels. For special occasions, we provide a variety of kitchen towel sets. For any promotional events, we can offer personalized dish towels. We specialize in producing superior Turkish tea towels and personalized kitchen dish towels, reflecting our dedication to crafting excellence. Our range extends to special occasions, providing diverse kitchen towel sets that elevate the ambiance. Additionally, our custom dish towels offer an effective way to promote brands during various events.
Customization of Promotional Kitchen Towels
Our promotional kitchen towels are customized by your company logo or brand.
We personalize your promotional kitchen towels to create a sense of excellence and quality as superb premiums intended to be showcased, ensuring that your logo and branding can be seen and valued.
We customise our kitchen towels by printing or embroidery or by weaving and labelling.
Custom Logo Embroidered Promotional Kitchen Towels
We manufacture custom logo embroidered kitchen towels for you that are used in your promotional campaigns to display your brand or logo.
Custom Logo Printed Promotional Kitchen Towels
We can customize your logo, artwork, or sample is placed and print it on your personalized promotional kitchen towels.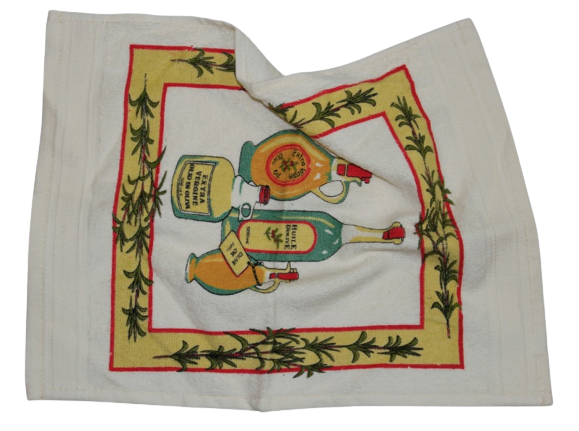 Your selected colors and layout will be completely adapted using our advanced printing systems, which produce exceptionally high color resolution.
High Quality Fabrics for Custom Promotional Kitchen Towels
The kitchen towels we produce are made of 100 % cotton. The fabric is highly absorbent and quick drying. All three types of kitchen towel fabrics ( flat woven, waffle woven, and terry woven ) are crafted exclusively from high-quality Turkish cotton, ensuring superior softness, durability, and absorbency. This choice of fabric enhances their performance, making them ideal for efficient and stylish kitchen tasks.
Kitchen towels can be crafted from flat woven fabric with a smooth surface for quick drying, waffle woven fabric featuring a textured pattern for enhanced absorption and aesthetics, or terry woven fabric with looped fibers providing softness and absorbency for moisture-related tasks.
Flat Woven Fabric for Custom Kitchen Towels
Flat woven fabric in kitchen towels features a smooth, even surface and is lightweight, ideal for tasks like gentle wiping and quick drying.
Waffle Woven Fabric for Custom Kitchen Towels
Waffle woven fabric used in kitchen towels has a textured pattern resembling waffle grids, enhancing moisture absorption and adding visual interest.
Terry Woven Fabric for Custom Kitchen Towels
Terry woven fabric found in kitchen towels has looped fibers on both sides, creating a soft, absorbent texture suitable for tasks involving moisture absorption and durability.
Types of Custom Kitchen Towels Based on Fabric Weaves
Each type of kitchen towel has its own unique features and benefits, making them suitable for different tasks in the kitchen. When choosing kitchen towels, consider the specific tasks you'll be using them for, as well as your preferences for texture, absorbency, and aesthetics.
Flat Weave Kitchen Towels : Plain kitchen towels
Waffle Weave Kitchen Towels : Waffle kitchen towels
Terry Weave Kitchen Towels : Terry kitchen towels
Flat weave kitchen towels are smooth and lightweight, suitable for gentle wiping; waffle weave kitchen towels feature a textured grid pattern for enhanced moisture absorption and aesthetic appeal; terry weave kitchen towels, with looped fibers on both sides, offer softness and high absorbency, ideal for tasks like drying hands and cleaning spills.
Flat Weave Kitchen Towels (Plain Kitchen Towels)
Also known as plain kitchen towels, these towels are constructed of flat-woven fabrics, mainly cotton, and they come in solid colors and muliti colors . They are branded by printing or embroidery.
Flat Weave Kitchen Towels (Plain Kitchen Towels)These towels are crafted from a smooth, closely woven material without any raised loops or textures. They are lightweight and ideal for delicate wiping or polishing tasks. They tend to dry rapidly and are commonly employed for drying dishes, glassware, and countertops.
Waffle Weave Kitchen Towels (Waffle Kitchen Towels)
Waffle weave kitchen towels, commonly referred to as honeycomb kitchen towels, are produced with fabric distinguished by its three-dimensional texture.
By utilizing warp and weft floats of varied lengths, the weaving process creates the raised ridges that form a grid structure around the plain weave core.
They are mostly made of cotton, feature in solid colors and muliti colors, and are branded by embroidery or printing.
Waffle weave towels exhibit a textured pattern reminiscent of a waffle grid. The elevated squares in the fabric enhance moisture absorption. These towels are used for drying dishes and are also handy for handling hot cookware due to their heat-resistant design. Their visual appeal is an added bonus.
Custom T

erry Weave Kitchen Towels (Terry Kitchen Towels)
Terry weave kitchen towels are made from Turkish cotton terry towelling fabric.
They come in both solid colored towels and multi colored towels.
They are branded by printing, embroidery or jacquard weaving.
Terry weave towels possess looped fibers on both sides, creating a soft and absorbent texture. These towels find frequent use in kitchens for tasks requiring substantial moisture absorption, like drying hands, cleaning spills, and managing hot objects. They come in various thicknesses, with thicker variants excelling in absorption.