Custom Kimono Bathrobes
One of the most comfortable bathrobes to wear is a kimono. Both men and women choose kimono robes. For dressing gowns, spa robes, and bathrobes in general, this style is favored. Custom robes in the kimono style do not have shawl collars; instead, the collars are flat. Depending on the model you select, they have a self-fabric belt or belt-loop. They either have one, two, or no pickets at all. Terry cloth is used in the construction of kimono robes. Bathrobe fabrics can range in weight from 330 to 500 g/m2. Turkish cotton terry cloth is designed for use in baths and showers, and as it is highly absorbent, people typically prefer it to other fabrics after a shower. 100% High-Quality Turkish Cotton is used to weave our Terry Kimono bathrobes. Our kimono bathrobes are made entirely of terry or velour on the inside and outside for maximum absorption.
What are the 5 essential standards that terry cloth used for bathrobes must meet?
a significant water absorbing rate,
superior softness quality,
fast drying rate,
excellent mechanical convenience,
exceptional surface texturing.
All of these features really are impacted by the fiber properties.
Super soft terry cloth robes
Our custom bathrobes are super soft as they are manufactured from 100% Turkish cotton terry cloth.
Terry cloth kimono robes
Personalised kimono robes mix luxury and functionality; sizes, colors, and branding are all customizable, offering coziness whereas the shape makes washing them more practical.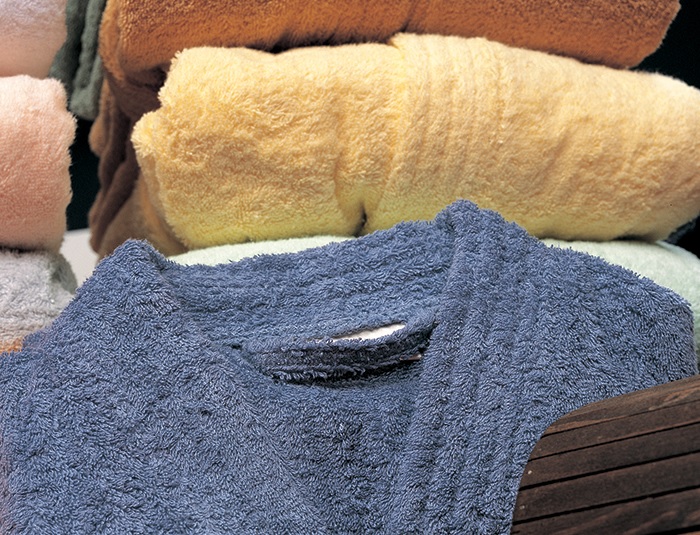 100% Turkish Cotton Terry Kimono Bathrobes
We produce an extensive range of sizes, custom colors, custom fabric weights, and branding options for our Turkish cotton kimono terry cloth bathrobes. The options are customizable and suitable if you prefer to embroider your logo.
Absorbent robes
Our custom kimono bathrobes have the highest level of absorbency, which makes them perfect for both promotional and hospitality purposes.
Custom Turkish Cotton Robes
Our custom kimono robes are a fantastic promotional gifts. Customized promotional kimono bathrobes are available from us. We manufacture premium customized kimono robes with your logo embroidered or printed on them for promotional purposes. They are composed of exceptionally soft, absorbent Turkish cotton. Your clients will get the best treatment possible when you choose high quality promotional kimono robes.
Custom Robes with logo
We manufacture custom promotional robes with your company logo as high-end promotional products to give as gifts to your customers. Customers will value your promotional bathrobes since they are so soft, comfortable, and absorbent. For your guests to wear and experience the quality and comfort during their stay, we also produce and export personalized hotel, spa, and sauna logo robes. Branded robes provide a classy image for your company. Giving your customers comfortable and functional promotional bathrobes is one of the best ways to promote your logo and your business.There is no better feeling than wrapping yourself in one of our soft custom promotional bathrobes. Kimono bathrobes constructed of terry cloth with a custom printed or embroidered are classy and very well executive gifts. A soft custom robe with your logo embroidered on it can be used to thank your customers. Additionally, we manufacture promotional robes in premium terry velour quality with custom printing made to your precise specifications.
Custom Logo Promotional Kimono Bathrobes
We customize your styles, colors, models, sizes. We ase jacquard weaving, embroidering and printing methods to apply your logo on kimono bathrobes.
Custom Logo Robes
Our custom logo promotional kimono bathrobes can be personalized with any logo, color, or size that is required.
Promotional Kimono Robes With Embroidered Logo
We put on your custom logo as embroidery on kimono bathrobes. Your logo on our promotional kimono bathrobes will create a lasting impression. We always offer you best promotional gifts that will represent your company.
Promotional Kimono Robes by size
Women Kimono Robes
Men Kimono Robes
Kids Kimono Robes
Children Kimono Robes
Baby Robes
Unisex Kimono Robes
Promotional Kimono Bathrobes by use
Hotel kimono bathrobes
Promotional Turkish cotton robe
Spa kimono bathrobes
Sauna kimono bathrobes
Yacht Club kimono bathrobes
Sports Club kimono bathrobes
Marine kimono bathrobes
Corporate kimono bathrobes
Luxury Gift kimono bathrobes