Custom Made Hotel Towels
We produce and export custom hotel towels that are genuinely luxurious, soft and exceptionally absorbent with hotel logo.
Our hotel logo towels are loft, plush pile, and with silky comfort. Our branded, personalised hotel towels are useful for everything and give comfort to guests in hotels.
Personalized hotel towels with custom logos are essential products for hotels, spas and saunas.
Our custom logo hotel towels are made from the finest Turkish cotton fiber and meet a number of quality and manufacturing criteria, including grammage, size, fiber composition and weaving structure, pile loop formation and absorbency, and softness.
As a result, we can guarantee you elegant and highly resistant custom terry towels for your hotel's comfort and prestige.
Hotel Towels with Logo
We provide a very smart and professional logo customization service so that you can display your hotel logo on your hotel towels in an elegant manner.
All of our hotel towels can be personalized with your hotel's logo or artwork.
We can have your custom logo woven into the towels or embroidered on them if you have an idea for the perfect towel for your hotel room.
High Quality Branded Hotel Towels
Towel quality is an essential component of almost any hotel bathroom.
We manufacture and export a wide range of branded hotel towels with logo in premium quality.
Our custom promotional hotel towels can be branded with your hotel logo or artwork to provide a superb promotional product to your guests.
Our luxury hotel towels are woven by using the highest quality Turkish cotton yarns and are manufactured under strict quality assurance processes.
Promotional Hotel Towels
Promotional hotel towels are an impactful way to inform your guests about your hotel brand to a diverse range of guest profiles and segments, including business travelers and tourists.
Hotel towels with logo can help you promote your hotel to guests by providing them with the best bathing experience possible.
Hotel logo bath towels are the most advantageous, practical, and functional luxuries for keeping your logo visible for as long as possible.
Wholesale Hotel Towels with Logo
As a custom hotel towels manufacturer we export wholesale hotel towels with your hotel logo that are customized by embroidering, labeling or jacquard weaving.
We can customize sizes based on your specifications and requires, and we can provide you with any size of hotel towel, from small white cotton hand towels to large bath sheets.
We can decorate your towels with embroidery or jacquard weaving.
Basic Hotel Towel Manufacturing Techniques
Hotel towel customization is an important service and in the subdivision of the hotel linen, it can be called bathroom linen or hotel linen.
Most hotels prefer to use white cotton towels, and some hotels customize other colors and other styles according to their hotel style.
Standard hotel towels should be equipped with face towel, hand towel, bath towel.
Our hotel towels are mostly custom-made products, behind the changes in specifications, weights, etc are a large number of complex towel design and data calculation work, as well as process technology adjustments.
Border Jacquard weaving of Hotel Towels
Using high quality polyester yarns, your logo or custom design will look exquisite on the jacquard woven border of a uni-color type of hotel towel.
Relief Jacquard weaving of Hotel Towels
The weaving of your artwork or hotel logo as a relief on the towel is described as relief weaving.
For hotel towels with a solid color, relief weaving is a fantastic choice.
Embroidering of Hotel Towels
These customized hotel towels feature your hotel logo or custom artwork embroidered in great quality.
Your logo on hotel towels will get a lot of value by being embroidered.
These are wonderful hotel promotional products that may be personalized in terms of color, embroidery artwork, branding, and fabric characteristics to meet your requirements.
The most popular types of the hotel towels
We have different types of custom logo hotel towels according to your specifications and your personalized design and according to the method of customization of your logo, your artwork, your colors and labels.
1-Plain hotel towels without logo in solid colors.
2- Plain hotel towels with embroidered logo in solid colors.
3-Border jacquard woven logo hotel towels in solid colors.
4-Relief jacquard woven logo hotel towels in solid colors.
Plain hotel towels with logo in solid colors
Our plain woven hotel towels customized with your logo are premium, soft, and super absorbent, giving guests a deluxe bathing experience.
Our plain woven custom hotel towels have a satiny feel that your guests will appreciate, as well as the excellent mix of softness and absorbency for the most privileged guests.
Custom embroidered hotel towels
We produce deluxe and durable custom logo hotel towels with embroidery.
The quality of the embroidery will add a luxurious image to your custom logo hotel towels and will empower the image of your hotel.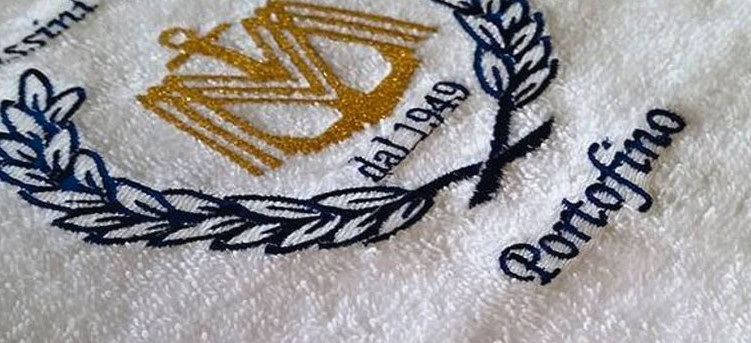 Custom logo embroidered hotel towels are available in a variety of sizes, including large and extra large bath towels.
Usually, hotels choose to have their hotel logo embroidered on top or in one of its corners of the hotel towels.
No matter how large the image, text, or hotel logo, custom embroidered hotel towels have a premium feel that will convince guests to use and display them time and time again.
Border jacquard hotel towels
Hotel bath towels with a custom jacquard woven logo on the border are hotel brand promotional products.
Our border jacquard hotel towels are manufactured of premium terry and will perfectly hold your brand or design.
The color can also be customized.
On the borders, high-quality polyester yarns are used.
Relief jacquard hotel towels
Custom woven relief jacquard hotel towels with your hotel logo or designs are an excellent way to promote your hotel.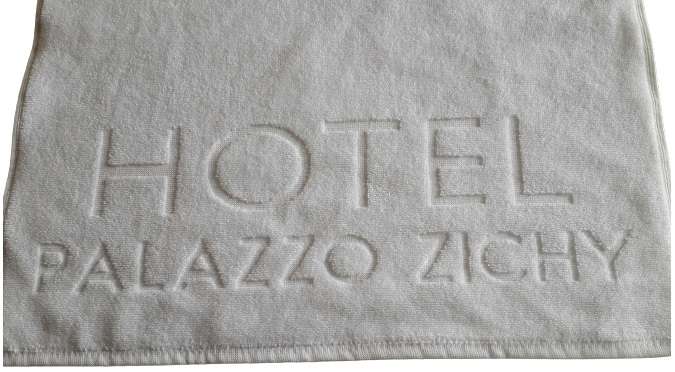 Your customized hotel logo or artwork will look great as a relief pattern on the towel, making it ideal for the hotel room.
Hotel towels with a relief jacquard woven custom logo make excellent hotel merchandise.
Fabric Construction of the Hotel Towels
Our luxuriously soft custom hotel towels are made with Turkish cotton.
Turkish cotton is a long staple cotton, so the yarn is smooth yet thick, making these towels have excellent absorbency.
Premium quality Turkish cotton is used and the towelling fabrics can be in terry quality or in velour quality .
On the embroideries and on the jacquard woven borders, high quality polyester yarns are used.
There are two types pile loop construction of the hotel towels : Pile loops with single yarn and pile loops with double yarn.
Fabric weights can be between 330 g/m2 and 950 g/m2.
Standard Sizes of the Hotel Towels
Our custom hotel towels are a bit larger or heavier than home towels, not only for the comfort needs, but also for the high-intensity washing of the hotel towels.
Hotel Face Towels : 30x30 cm / 12x12 inch
Hotel Guest Towels : 30x50 cm / 12x20 inch
Hotel Hand Towels : 50x100 cm / 20x40 inch
Hotel Bath Towels : 70x140 cm / 28x55 inch
Hotel Bath Sheets : 100x150 cm / 40x60 inch
Large Hotel Bath Sheets : 100x180 cm / 40x70 inch
Extra Large Hotel Bath Sheets : 100x200 cm / 40x80 inch
Hotel Bathmats : 50x70 cm / 20x28 inch
Hotel Pool Towels : 70x140 cm / 28x55 inch
Large Hotel Pool Towels: 100x150 cm / 40x60 inch