Custom Hotel Bathrobes
We are a manufacturer of custom hotel bathrobes and serve all hotel brands, big and small, a one-stop destination for their customization requests.
Our custom hotel robes are constructed of luxurious Turkish terry cotton, which makes them incredibly absorbent, soft, and luxurious.
We provide you a one-stop destination for all of your hotel toweling and hotel bathrobe supplies.
We provide the best service and timely delivery along with customized solutions for you.
Our luxury hotel robes are produced specifically with Turkish cotton that is extremely soft and has a specific GSM.
Custom embroidery can be used to brand hotel robes with hotel logos.
Hotel quality towelling bathrobes are tailored for comfort.
We are a manufacturer of Extra Long Fiber Turkish Cotton Terry Towel Bath Robes
The hotel premium quality bathrobe is the most often used product in the category of hotel bath linens.
Our hotel robes are made entirely of superior Turkish cotton with extra long fibers, have the finest piles, and are long-lasting.
Turkish cotton provides numerous benefits that other cottons can't due to its long staple length.
The softness, absorbency, durability, and colorfastness of our custom Turkish bathrobes as well as other comforting and useful qualities are greatly influenced by the superior Turkish cotton fiber.
Custom Made Hotel Robes
We produce and export custom robes for spa and hotel use made from the highest quality Turkish cotton.
Our hotel bathrobes are plush, fluffy, and highly absorbent, and they are a definite way to provide guests with luxurious comfort.
Promotional Hotel Bathrobes
We are a promotional bathrobes manufacturer and we export promotional luxury star hotel guest bathrobes made of finest Turkish cotton and promotional hotel robes with embroidered logo.
Your hotel bathrobes can also be customized to meet promotional purposes.
Promotional hotel bathrobes can be used to express gratitude to guests, strengthen relationships with them, and promote the hotel brand.
With the type of fabric, color, and model that you specify, we can produce custom bathrobes with your hotel logo or branding.
Types of Hotel Bathrobe Fabrics
Although we provide a variety of materials for our hotel robes, we mainly use woven cotton terry fabrics, cotton terry velour fabrics, and cotton waffle fabrics to manufacture custom hotel bathrobes with the best texture and absorbency.
Turkish Terry Cloth Hotel Bathrobes
100% cotton terry hotel robes are the nicest and most absorbent ones. More water may be absorbed by making the loops thicker or denser, but lengthening the loops also makes them more absorbent.
This implies that the greatest terry hotel bathrobes for keeping people warm and dry are those that have a scruffy appearance.
Turkish Terry Cloth Fabric
Cotton terry fabric is made by weaving cotton through loops. Terry fabric is a popular material for hotel bathrobes because of its smooth texture and superior absorbing capabilities. Terrycloth, also known as terry cloth, terry cotton, terry toweling, terry, or toweling fabric, is a fabric with multiple projecting loops of thread that is woven into it and has a high adsorption efficiency. It can be constructed by knitting or weaving. Terrycloth is produced on special weaving looms with two longitudinal warp beams through which the filler or weft is discharged horizontally.
Turkish Terry Cloth Robes
Numerous small loops construct the fabric known as terry cloth. Each loop sucks in more water than it weighs. This is why terry is used to produce the majority of hotel bathrobes.
Velour Hotel Bathrobes
100% premium Turkish cotton is used to weave our terry velour hotel bathrobes. 100% sheared terry cloth, commonly known as velour, makes up the elegant exterior and 100% looped terry, which makes up the absorbent interior.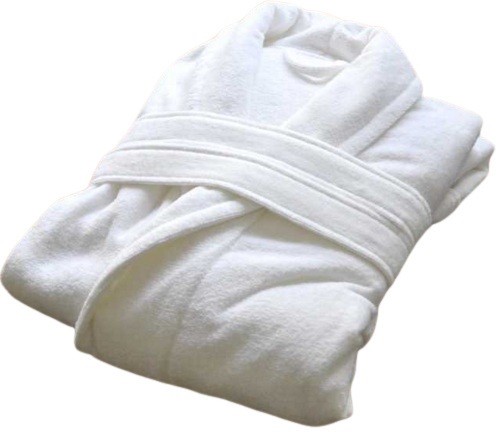 The terry velour hotel bathrobes have a luxurious aesthetic and are equally as absorbent as the terry variants.
Cotton Terry Velour Fabric
The loops on velour fabric, a form of terry cloth, are cut to make a softer fabric. Cut velvet terry fabric, which is normally on the outer surface and provides a soft, smooth surface with a charming shine, is equally as soft on the inside and just as absorbing as standard terry. To maintain its smoothness and feel after washing, a velour hotel bathrobe should be tumble-dried.
Turkish Cotton Terry Velour Bathrobes
Our 100% Turkish cotton Terry Velour Hotel Bathrobes have a smooth touch and are the perfect weight.
Luxury Hotel Robes
Luxury Velour Cotton hotel robes feature a velour outside of the finest quality and an interior of 100% cotton terry towelling that is highly absorbent.
We have been manufacturing and exporting custom hotel robes of this quality and style for some of the most prestigious hotels in the world for decades.
Waffle Weave Hotel Bathrobes
Our waffle robes are elegant and lightweight, making them ideal for use in spas or hotels. In hotels and spas, waffle bathrobes are available in the required size.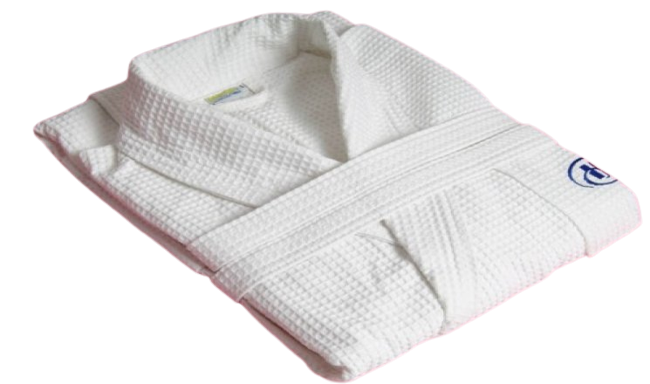 Our waffle hotel robes have pockets and an attached belt in addition to hooded, kimono, and shawl collar styles.
Waffle Weave Fabric
A fabric with a recessed pattern produced by cords running vertically, horizontally, or both is known as waffle fabric. It also goes by the terms waffle weave and honeycomb cloth. The word waffle comes from the resulting square shape.
Turkish Cotton Waffle Weave Bathrobes
We use waffle fabric, also known as honeycomb fabric, to produce Turkish Cotton Waffle weave hotel and spa robes. Waffle fabric is a form of fabric made by weaving raised threads into tiny rectangles.
Types of Hotel Robes
Our standard models include shawl collar robes, kimono robes, hooded robes, waffle weave robes, but any other model can be customized with selected accessories and size charts.
Custom Kimono Hotel Bathrobes
100% Top-Quality Turkish Cotton is used to weave custom kimono hotel bathrobes. Hotel kimono bathrobes have two deep, double stitched pockets, a single belt loop, a belt, and a hanging loop.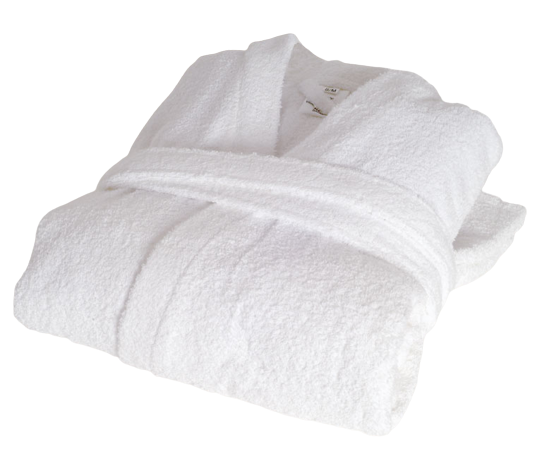 As an experinced manufacturer hotel bathrobes and top luxury hotel and spa linens of finest quality, we produce and export custom kimono hotel robes.
Custom Shawl Collar Hotel Bathrobes
Custom hotel bathrobes with shawl collars are made of hydrophilic terrycloth.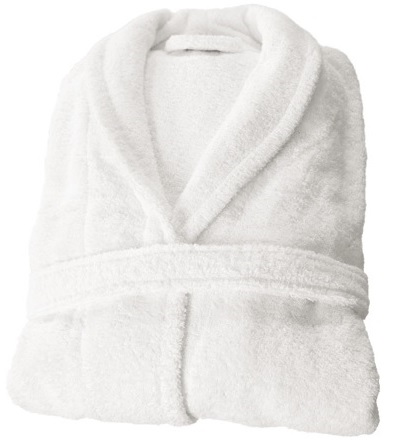 The best post-shower comfort is achieved by the custom shawl collar hotel robe, that has deep pockets, a substantial belt, and classical shawl collar style.
Custom Hooded Hotel Bathrobes
High quality hooded hotel bathrobes are essential for the hotels.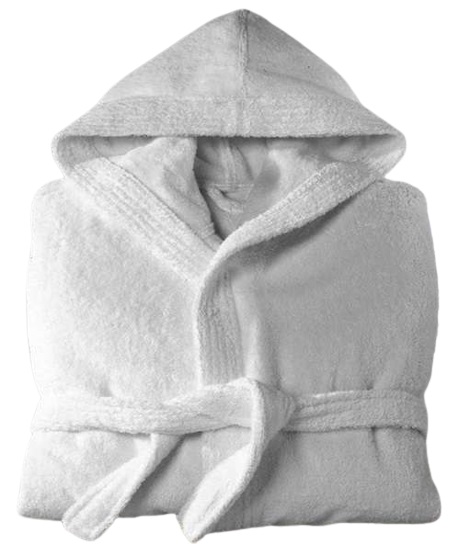 Custom hooded hotel robes customized to your specifications provide function and comfort.
Turkish cotton is used to make custom hotel robes with hood.
Branded Hotel Bathrobes
Custom Embroidered Hotel Bathrobes
We can customize bathrobes with your logo by using embroidery to give a lasting impression of your hotel logo to your guests.
We embroider your logo using the advanced embroidery equipment and quality embroidery yarns.
Custom Logo Jacquard Woven Hotel Bathrobes
To promote your hotel brand and business identity, your logo can be jacquard woven onto the bathrobes.
Custom Logo Label Hotel Bathrobes
The labels of the hotel bathrobes can be woven with your logo or printed with it to promote your hotel brand and corporate image.
Custom Logo Printed Hotel Bathrobes
Your hotel brand and corporate branding can be enhanced by having the hotel logo printed on the bathrobes.